Andrology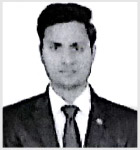 Dr. K Raghavender,
MCh- Urology, DNB- Urology/Genito - Urinary Surgery, MBBS, MS - General Surgery, Fellowship Andrology and Mens Health
Urologist, Andrologist, Sexologist, 12 Years Experience
Dr. Raghavender. K is a consultant Microsurgical Andrologist, Urologist and Sexual Dysfunction Specialist. He completed his MBBS from Siddhartha Medical College, Vijayawada. He was awarded "Best outgoing student award" by Andhra Pradesh Medical Council. Then he went to Gandhi Medical College, Hyderabad for MS General Surgery. He was the secretary for Andhra Pradesh junior doctors Association (APJUDA) and during post graduation in Gandhi Medical College, He was the President of Andhra Pradesh Junior doctors Association which showcased his communication and leadership skills.


Dr. Raghavender graduate of urology from Andhra Medical College, Visakapatnam, from his beloved mentor and Professor Dr. Ch. Subbarao. He was awarded "Medical champions award" by central govt. Minister Dr. D Purandhareswari. During his residency training, He assisted and performed the wide spectrum of urological surgeries including more than 200 kindey transplantations. He also completed DNB Urology from R and R Hospital, New Delhi.


He attended Micro Surgical Training in Mumbai by Johnson and Johnson. After his training in Andrology by none other than Dr. Rupin Shah, father of Indian Andrology, he left to united states of America for further training.


He completed his Andrology laboratory training on comprehensive semen analysis and advanced sperm function tests, with world renowned Dr. Ashok Agarwal at American center for reproductive medicine, Cleveland clinic, Cleveland, Ohio. He also got training in male infertility by Dr. Edmund Sabanegh, Glickman urological center, Cleveland clinic, USA.


He is the only Andrologist from India, who completed his microsurgical training in Weill Cornell Medical Center, Cornell university, New York, USA by Dr. Philip S Li, under a supervision of Dr. Marc Goldstein, an internationally renowned male infertility specialist for his pioneering work in vasectomy reversals and microsurgical varicocelectomy. He is trained in micro- TESE by Dr. Peter Schlegel, who is the founder and master in that procedure in Cornell university, New York. Then he moved to a university of Miami, Florida, for further training in Andrology by RanjithRamasamy, who is a dynamic Andrologist in Florida state. He was very lucky to observe Dr. Francois Eid, world renowned penile implant surgeon, well known for his "no touch technique" of prosthetic surgery in New York.


He is one of the Indian doctor to get trained at world premier male reproductive centres in the USA, where he worked with pioneers in the field of male infertility and erectile dysfunction.


He is an expert in microsurgical varicocelectomy, micro-TESE, NAB and vasectomy reversals and penile prosthetic implantation. Dr. Raghavender maintains the dedication to patient care, academics, and research.


He is a member of many prestigious international organizations like International Society of Sexual Medicine(ISSM), South Asian Society for Sexual Medicine (SASSM) American Urological Association (AUA), Indian American Urological Association (IAUA), Urological Society Of India (USI), The Society Of Genitourinary Surgeons (SOGUS).